---
---
---
---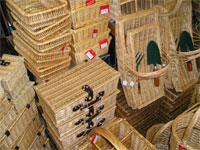 Information and ordering instructions for our Bespoke Hampers.

We can pack anything that we sell into a gift for you.

All packed in an open basket, a hamper basket or card carton.

These can be sent anywhere in the UK but are only available to order by phone or to personal callers.

We offer full mail order services for these products on 01206 572200.




Right panel
Clicking outside this panel wont close it because clickClose = false